Membership
Thank you for your interest in joining AB 2020: The Aubrey Beardsley Society. NB: the enrolment of new members is suspended until July 2022.
Your contribution supports our publishing platform, the AB Blog, as well as the development of our digital collection, the AB Library.
Regular membership aka 'Mentor' is £50. It alludes to the 'Dear Mentor' Marc-André Raffalovich as he features in Beardsley's letters. The names of the 'Mentors' will be published on this page.
Discounted membership aka 'Disciple' is £10. It is open to students and early-career researchers who have not yet held permanent academic posts. It entitles scholars at the start of their careers to participate in the competition for the Emerging Beardsley Scholar Prize.
The first 100 members to join the Society will receive a quintessentially 2020 welcome package with some souvenirs from the cancelled conference AB 2020: Beardsley Re-Viewed (they can expect a folder and a notebook with the beautiful poster design by Hanna Strizh as well as a rose et noir tote bag which was crafted specifically for the conference). As of August 2021, ten packages are still available.
20 miniature posters representing the title designs of the Keynote Series are added to the welcome package courtesy of Thomas G. Boss Fine Books.
The Aubrey Beardsley Society members receive a monthly newsletter compiled by Sasha Dovzhyk.
All members also receive exclusive gifts and keepsakes such as ABirthday postcards and bookmarks.
Members of AB 2020: The Aubrey Beardsley Society are entitled to purchase a new book by Simon Wilson, From Greek Youth to Flying Demon Angel: Jacob Epstein's Studies for the Tomb of Oscar Wilde (London: Sign of Nine, 2020). The price is £10 with complimentary postage.
If you have any queries or suggestions, please get in touch with Sasha Dovzhyk (contact@ab2020.org).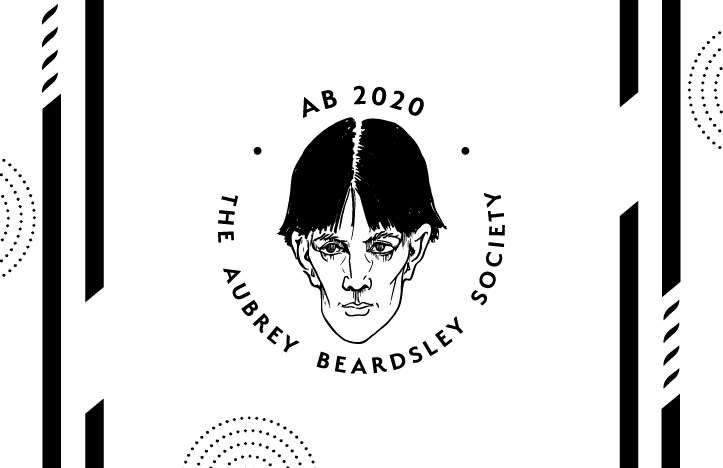 The 'Mentors' of the Aubrey Beardsley Society include:
Barbara Bennett
Kevin Cann
Nicola Darwood
Mariusz Doering
Robert Earl
Caroline ffrench-Hodges
Audrey Wagtberg Hansen
Karolina Kallee
Ruth Koffman
Kevin Cordes
Lorraine Janzen Kooistra
Mark Samuels Lasner
Alexia Lazou
Kristin Mahoney
Michael Seeney
Samuel Shaw
Brian J. Showers
Margaret Stetz
Darcy Sullivan
Emma Sutton
Ana Parejo Vadillo
… and others who have chosen to remain anonymous.